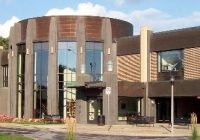 The Wisconsin Public Library Consortium announced that readers borrowed over 4.25 million digital books through its OverDrive-powered Wisconsin's Digital Library in 2017, a new record. With an ever-expanding digital collection of eBooks and audiobooks, Wisconsin's Digital Library experienced year-over-year growth of 6.9 percent from 2016 as they joined the "Million Checkout Club" of 58 libraries worldwide.
Wisconsin Public Library Consortium launched Wisconsin's Digital Library in 2005, providing readers 24/7 access to eBooks and audiobooks. Reader interest and usage has grown every year since.
Rock County Public Libraries proudly promote the use of Wisconsin's Digital Library (WDL) and offer help for patrons wishing to use either the Libby app or OverDrive app to access the eBooks and eAudiobooks available through Wisconsin's Digital Library. Information on these apps is available online at http://als.lib.wi.us/apps.html or speak to a librarian about scheduling a one-on-one or group help session–various opportunities are available around the county.
The top 5 titles readers borrowed through Wisconsin Public Library Consortium's OverDrive-powered digital collection in 2017 were:
1. The Girl on the Train, Paula Hawkins
2. The Whistler, John Grisham
3. Turbo Twenty-Three, Janet Evanovich
4. Small Great Things, Jodi Picoult
5. Truly Madly Guilty, Liane Moriarty
Readers just need a valid library card to access digital books from Wisconsin's Digital Library. Readers may use any major device, including Apple(R), Android™, Chromebook™ and Kindle(R) (U.S. only). Visit https://wplc.overdrive.com or download the Libby app to get started and borrow eBooks and audiobooks anytime, anywhere.