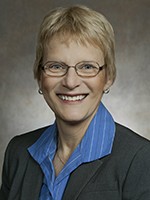 44th Assembly District Representative Deb Kolste of Janesville appears to enjoy the job.
The Democrat announced (Monday) that she will seek her fourth two-year term on the state Assembly in November.
Kolste serves as ranking minority member on the Health Committee and the Science and Technology Committee. She is also a member of the Small Business Development Committee, the Transportation Committee and the Public Benefits Reform Committee.
She was a long-time volunteer in Janesville before running for office. She was on the Janesville School Board for nine years and served as board president. Her husband, Rex Kolste is a practicing physician and medical director at Healthnet.