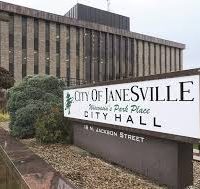 Those attending some events in downtown Janesville would be able to B-Y-O-B under a proposed ordinance under consideration by the Janesville City Council.
City Clerk Dave Godek says the ordinance would allow event attendees to either bring in their own beverages, or purchase one from a licensed establishment and enjoy it out on the street.  The ordinance would only apply to permitted special events where the street is closed, and event organizers request the allowance of alcohol.
Currently event organizers must sell their own alcohol in order for patrons to imbibe on the street.
The Janesville City Council held the first reading of the ordinance Monday night and referred it to the Alcohol License Advisory Committee who will have a public hearing on November 7th.