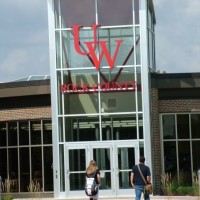 Under a restructuring proposal by the UW System, UW-Rock County and UW-Whitewater will merge by July 2018.
The UW System announced Wednesday that the consolidation of Rock County's two-year college and the four-year UW-Whitewater is part of a new network of regional pairings of two-year and four-year colleges the UW System is proposing.
Under a new "campus structure," the UW-Rock County campus will remain open in Janesville.
The mergers are intended to address a pending glut of retirements and a shortage in young members of the state's workforce who have attained higher education..
The objective, in part, is to make the system more aligned to meet the state's "projected workforce needs."
The proposal comes at a time when enrollment is declining at the UW System's two-year schools.
Between 2010 and 2017, UW-Rock County saw a decline of about 258 full-time students or 28%.
The restructuring proposal will be presented to the UW Board of Regents in November.