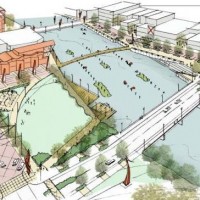 After a long summer of construction of Janesville's newest park, the Town Square will be celebrated with its first official event on October 20, "Launch the Square."
Community residents and visitors are encouraged to attend and celebrate this historic transformation and bold step forward for the community.  The park, located at the corners of Court, River and Dodge Streets has received a lot of attention by pedestrians and others traveling past by car.  The event serves as an opportunity for attendees to start utilizing the west side of the park.
Included in the event are the Craig High School Jazz Band, which will provide festive music, and the Forward Janesville Ambassadors, who will be on hand for an official ribbon cutting.  A brief program will take place at 3:30 p.m. recognizing the partnerships involved in transforming downtown Janesville.
Following the program, downtown businesses will be offering specials to encourage people to stay downtown and celebrate the community.
ARISE Now is a public-private sector group whose purpose is to facilitate and strengthen the implementation of the City's long-term downtown program, ARISE, as well as to support other key activities and organizations working to transform downtown Janesville.
The ARISE program strives to be a bold vision for downtown Janesville's long-term future, solidly grounded in community engagement and focused on feasible action steps that will give the plan the best chance at success.  The plan is intended to position downtown Janesville as a vibrant neighborhood where commerce, culture, entertainment, and history intersect.  It also serves as a "playbook" for aligning and focusing resources in such a way as to draw a consistent and sustainable critical mass of people to the downtown, thereby encouraging diversity in downtown development, businesses, and activities, and fostering private development.