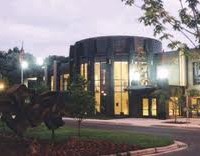 The Friends of Hedberg Public Library will host their 8th annual literacy fundraiser, A Night at the Library, on October 21 at 7 p.m.
This year's theme, Nightmare at Main St. Manor, invites guests to the famed Main Manor, which is noted for its exquisite, extensive rare book and object collection – and its haunted history. It has been the site of many unexplainable events, and some even claim to have seen spirits walking the halls. Are they trying to reclaim their precious items that are now on display in the Manor's library?
The Manor and it's library only open their doors to the public once a year during the Festival of Remarkably Rare Oddities – featuring items such as an envelope licked by Hemingway and Stephen King's dryer lint. But this year, the item people seem to be 
dying
 to get their hands on is a cursed book once owned by Harry Houdini: 
Secrets of Magic
. Who will be next to fall victim to its horror?
Guests at Main Manor will enjoy a cash bar, heavy hors d'oeuvres, live performances and an interactive murder mystery filled with an eclectic cast of quirky character thanks to sponsors like Best Events, Lamar Advertising, Dollar General, E&D Waterworks, Bodacious Shops of Block 42 and Candace Huber. Plus, the library is once again partnering with UW Whitewater's theatre fraternity, Theta Alpha Phi, to produce the mystery which was custom written by Hedberg Public Library's very own resident author, Jamie Swenson.
Tickets are $40 and can be purchased online with credit or debit card or at the library's checkout desk with cash or check. The event is for adults only.
For more information, including suspect descriptions and costume inspiration, visit HedbergPublicLibrary.org