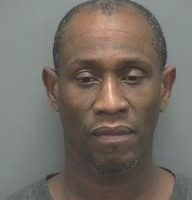 A 48-year-old Beloit man is under arrest following a short police chase that ended with his vehicle upside down in Lower Courthouse Park.
Janesville Police say an officer observed a vehicle driving without it's lights on just after 1:30 Wednesday morning on North Main Street.
When the officer got behind the vehicle it briefly pulled over to let a passenger out and then accelerated and a chase ensued.
The vehicle traveled less then a half mile around downtown before driving onto the lawn of Lower Courthouse Park, becoming airborne and coming to a rest on it's roof next to the Marvin Roth Community Pavilion.
The driver, Everett K. Tipler ran from police but was arrested after a short distance.
A female passenger was helped from the vehicle.
After being checked out at a local hospital, Tipler was taken to the Rock County Jail on suspicion of felony fleeing, receiving stolen property, first offense OWI, reckless driving, operating without require lamps, and a warrant for failure to pay child support.