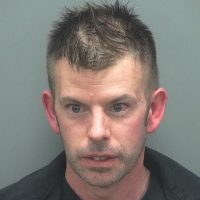 (photo: William Young )A night at the tavern for two friends ends with of them in the hospital and the other in the Rock County Jail.
The Rock County Sheriff's Office says deputies were dispatched to a single-vehicle rollover crash on West County Trunk M at North County Trunk H just after 6:30 Wednesday evening.
Investigation determined that after having just left and Evansville bar, 29-year-old Jeremy J. Engen was traveling east on M and he was being followed by his friend 41-year-old William R. Young.
The Sheriff's Office says Engen failed to stop at a stop sign, entered a field, and his vehicle rolled over, partially ejecting him, and trapping his arm.
Engen was extricated and transported to a local hospital with non-life threatening injuries. He was later arrested for operating while intoxicated and after refusing a blood test, released with a court date.
Young, who wasn't involved in the crash, but did stop to help, was arrested for fourth offense OWI and transported to the Rock county Jail.