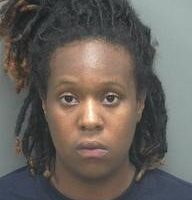 Despite having her face plastered on news reports, social media, and electronic billboards, a Beloit woman accused of attempted first degree homicide remains on the loose.
20-year-old Latoya Hill fled the Holiday Inn Express in Janesville just after 9:00 Tuesday evening in a red Monte Carlo after a good Samaritan wrestled the gun she used to rob and shoot at a Canadian man away from her.
The Canadian man had been staying at the hotel and arranged to pay Hill for sex.
She robbed the man instead and fired two shots at him, both of which missed.
While Janesville Police are still looking for any tips that will lad to Hill's arrest, they say the incident wasn't a random act and the public isn't in danger.