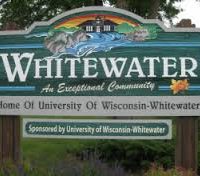 Whitewater High School is evacuated after a suspicious message was found on campus.
Whitewater Police say officers responded to the school around 10:00 Monday morning after a suspicious message was found.
The school was placed on lockdown and students were evacuated while police searched the building.
Just before 2:00 students who had not been picked up by their parents were allowed to return to school and classes resumed as normal.
No suspicious devices were found although other district buildings were placed on heightened awareness as a precaution.