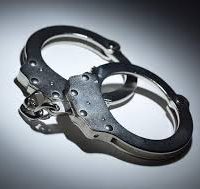 A 38-year-old Beloit is facing charges after crashing his car while speeding to work to avoid providing another breath sample for his vehicle's Ignition Interlock Devise.
Beloit Police responded to the report of a hit and run accident at the intersection of Milwaukee and Cranston Roads just after 9:30 Monday evening. A vehicle had struck a concrete median and left behind it's bumper and front license plate.
Officers located the suspect vehicle parked at a business on Kettle Way a short time later and observed that it had a device that requires the operator to provide a breath sample before the engine will start.
An officer spoke with the owner of the vehicle, Kenneth Johnny Barnes who claimed that he got into the accident because he was speeding to work.
The Officer noticed that Barnes' speech was slurred and he appeared intoxicated.
According to the criminal complaint, upon further questioning Barnes admitted that he was speeding in the hopes of getting to work before he had to provide another sample to the Breathalyzer in his vehicle.
After failing several field sobriety tests, Barnes was placed under arrest for obstructing and sixth offense operating while intoxicated.