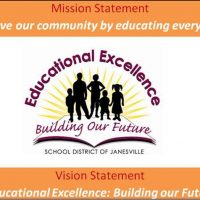 Janesville teachers could soon see a new salary structure that would reward both years with the district and professional development.
The Janesville School Board will consider a new pay scale designed to retain good teachers and be economically sustainable over time Tuesday evening.
If the proposed structure is approved, it would be the third change in the way teachers are paid since Act 10 passed in 2011.
Under the terms of Act 10, the state law that stripped public unions of most of their bargaining rights, unions can negotiate only for raises up to the amount of the consumer price index.
According to a memo from Assistant Superintendent of Administrative and Human Services Scott Garner, implementing the proposed pay structure would cost an additional $1.2 million next year.
If the salary structure is approved, starting teachers would earn $42,000. Starting teachers now make about $37,000.