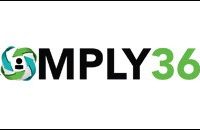 Kerry and Dude Frank, whose vision for digitizing bulky airline pilot manuals took them from their home's basement in northern Illinois to a successful business in Beloit, will receive the 15
th
 annual Ken Hendricks "Seize the Day" award June 5 at the 2018 Wisconsin Entrepreneurs' Conference.
The award, which celebrates entrepreneurial leaders who have been crucial to Wisconsin's economic growth, is named in honor of the late Ken Hendricks, a Beloit businessman and 2006 "Seize the Day" award winner who died in an accident in late 2007.
The Franks lead Comply365, which revolutionized the flight decks around the world with its software products and now counts about a dozen Fortune 500 companies among its clients. The company's secure, mobile enterprise platform is used well beyond the airline industry to increase productivity, mobility and compliance.
Comply365 was founded in 2007 and moved to Wisconsin in 2012 after the state offered tax incentives and pushed for the company to be a part of the Beloit renaissance.
"Comply365 has won the attention of investors and industry leaders alike, thanks to the vision and drive of Kerry, Dude and the rest of their team," said Tom Still, president of the Wisconsin Technology Council. The Tech Council produces the June 5-6 Entrepreneurs' Conference and administers the award, which has gone to entrepreneurs who have shown persistence in building their companies.
Past winners include Don Weber of Logistics Health Inc. (2004); Bob Cervenka of Phillips Plastics (2005); Ken Hendricks of ABC Supply (2006); Jan Eddy of Wingra Technologies (2007); Michael Cudahy of Marquette Medical Systems (2008); Toni Sikes of The Guild and Guild.com (2009); Bill Linton of Promega (2010); Bob Hillis of Direct Supply (2011); Kay Koplovitz of USA Network (2012); Fred Foster of Electronic Theatre Controls (2013); Craig and Lea Culver of Culver Franchising System Inc. (2014); Jim Berbee of Berbee Information Networks Corp. (2015); Mark Gehring of HealthMyne (2016); and Zach Halmstad of Jamf (2017).
"
Powering bright ideas for Wisconsin entrepreneurs
" is the theme of the conference, where 'treps from around the state will showcase their innovations, services and technologies. A dozen panel tracks formed under three unique stages of "launch," "grow" and "succeed" will appeal to entrepreneurs in all stages. Detailed panel information will soon be on the conference website: witrepsconference.com.