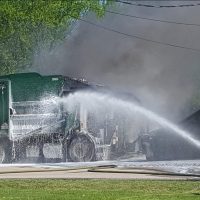 (Gazette photo) A garbage truck catches fire in Janesville, causing the evacuation of DaVita Dialysis on Woodman Road.
About seven patients were evacuated to the parking lot of next-door Rogan's Shoes around 10:00 Wednesday morning.
No one appeared to be injured, and the driver got out safely from the Waste Management truck, which was near the dumpster behind the dialysis business.
An Alliant crew was called because of danger to power cables overhead.