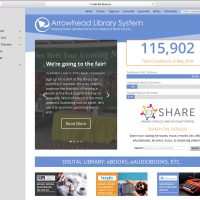 Arrowhead Library System launched its totally redesigned website June 11, which focuses on services it offers to patrons and its member libraries. The new site was designed by ALS staff, is mobile friendly, easy to navigate, and more accessible than previous versions.
ALS's new website shines a spotlight on systemwide resources making it easy for patrons and staff to find and use system resources. The front page of the site shares the most up-to-date library system news, monthly circulation statistics, and features a handful of ALS's most exciting online tools for patrons. "Arrowhead Library System and its member libraries are dedicated to providing the best collections, resources, and tools to patrons and we decided it was time for our website to put these services front and center in a way that honors the time and expertise that goes in to curating them," said Steve Platteter, ALS's director.
ALS offers two main types of services–those to libraries and those to patrons. Two new links found in the sites main menu help eliminate confusion by dividing the system's services into a list of "Pages for Patrons" and "Pages for ALS". "Our last website grew as we grew and after a while became confusing and hard to navigate with all our services mixed together over several pages. We wanted to fix that and make it far more inviting than it had become," commented Tovah Anderson, ALS's Public Information Coordinator.
Other new website features include breadcrumb links that trace a viewer's path through the website, a comprehensive sitemap, PrintFriendly functions, Google language translation options, social media sharing buttons, and catalog and site search boxes on every page.
Explore Arrowhead Library System's new website at als.lib.wi.us to discover new ways to enjoy your spare time or learn something new, free through your library.
Arrowhead Library System was established in 1974 to coordinate and expand Rock County's public library services. Library cards from any Rock County public library are accepted at all 28 public library locations in the counties of Rock, Racine, Kenosha, and Walworth. Bring an ID and proof of address to the library when asking for a library card.