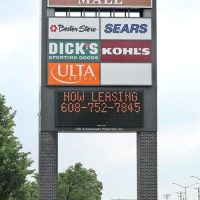 The Sears store at the Janesville mall is pending closure by early 2019.
Janesville Economic Development Director Gale Price says the city got an email Thursday)from Avis, a car rental company that uses space at Sears's automotive center.
The Avis official was inquiring about potential locations the auto rental store could move to when the Sears at the mall closes.
Price says employees of the store were also told Thursday morning that the store is closing.
The announcement of the Sears closure comes just a few months after the Janesville Mall's Boston Store was also put on the chopping block.
Earlier this year mall owner CBL Properties sold the property to Texas-based RockStep Capital.