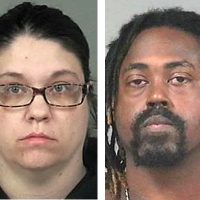 The case against a Beloit couple charged with half a dozen counts of child neglect and child neglect causing great bodily harm appears headed to trial.
Eight children were placed in protective custody after police and social workers who arrived at 40-year-old Lakeidric, and 41-year-old Heather McCoy's residence in March of last year found a filthy home with rat droppings on the kitchen table, a broke-down refrigerator full of rotten food, no personal personal hygiene items or toothbrushes, and two moldy queen size mattresses pushed together for seven children to sleep. A one-year-old was found in a pack-and-play swarming with fruit flies.
The McCoy's were in court Tuesday where a jury trial was scheduled to begin March 25th with a final pre-trial date of March 21st.
As one of the charges against the McCoy's is a felony the face up to six years in prison if convicted.