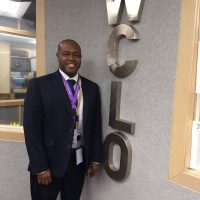 New School District of Beloit superintendent Dr. Stanley Munro is taking to his new position.
He doesn't officially start until July 1st, but he's already feeling welcome in his school district.
Dr. Munro tells Your Talk Show on WCLO he and the Beloit Board of Education share a common focus on student achievement.
He believes his experience working in major metropolitan school districts like Dallas, San Diego and Baltimore gives him great perspective for his new role in Beloit.
He doesn't see the School District of Beloit as a challenging situation, but rather a great opportunity work with passionate teachers.
Dr. Munro doesn't officially begin as superintendent for another three and a half months, but the board intends to include him on as many future matters as possible.