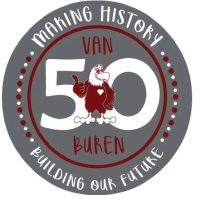 Van Buren Elementary School will host a 50th Anniversary Celebration with an Open House and Art Fair on Thursday, April 11th 2019 from 4:00 PM – 7:00 PM. The public is welcome to join students, families, alumni, and community members for this celebration.
Several activities are planned, including:
● 4:00 PM, Student artwork on display throughout the school; student leaders will share their personalized, hands on learning experiences from Van Buren; Van Buren state level Eagles Robotics Team will demonstrate their robotic talents; Guests are encouraged to help create an interactive art project to commemorate the 50th anniversary.
● 5:00 PM, Student leaders will hold a ceremony that includes a ribbon cutting and presentation of the Van Buren time capsule.
● 5:45 PM, The band and orchestra will perform.
● 6:45 PM, A winner will be drawn for the PTA raffle basket.
To honor half of a century of serving the community by living their school motto of "Engaging Learners, Building Leaders, and Creating Community," Van Buren students collected donation items
for 6 local charity organizations. Each grade level chose a different organization:
● Kindergarten — GIFT Men's Shelter
● 1st Grade — Boys and Girls Club,
● 2nd Grade — Headstart
● 3rd Grade — The Humane Society
● 4th Grade — YMCA Care House
● 5th Grade — Kandu
Van Buren students far exceeded their goal of collecting at least 50 items for each organization, and look forward to giving back to their community with their donations.