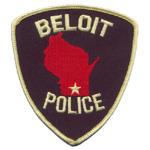 Seven citizens and 27 police officers receive honors from the City of Beloit Police Department during their annual awards ceremony.
Chief David Zibolski handed out the awards Wednesday night at the Eclipse Center.
Patrol officer Noah Johnson received the individual shift acknowledgement for the sheer volume of work he did in 2018, leading the department in citations.
For their response to a shooting last year, officers Cole Gille, Matthew Lee and Elijah Olofson received Distinguished Service Medals.
Three officers were recognized for their lifesaving efforts, and one administrative assistant was honored for her work in the department.