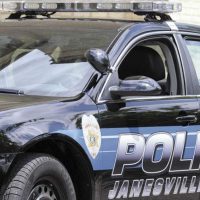 Two people are under arrest after Janesville Police say a man displayed a gun during an altercation in the Walmart parking lot.
According to a news releases, officers were dispatched to the store on Deerfield Drive around 6:00 Thursday night on the report of an armed subject.
The caller reported that a man was yelling at an unidentified female in the parking lot, and when a bystander intervened, he displayed a gun.
Officers learned the argument started over the unidentified female driving the wrong way in the Walmart parking lot.
Officers later located the suspect, 20-year-old Anthony Kreyer of Beloit driving in the area of Palmer Drive and East Racine Street. Kreyer was driving along with a second vehicle operated by a 21-year-old Lake Mills woman.
After searching both vehicles and finding the gun, Kreyer was arrested for disorderly conduct, carrying a concealed weapon, possession of THC and possession of drug paraphernalia.
The Lake Mills woman was arrested for obstructing an officer.