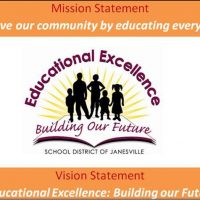 A proposal to allow Janesville School Board members to accept pay for their work on the board passes Tuesday night.
It will be the first time in the board's history that members will have the option to accept pay. Finer details of the proposal, including how much members would be eligible to receive, have not been hammered out yet.
More than 95% of school boards in the state pay their members somehow. Some get a per-meeting stipend; others are paid an annual salary.
The vote was 6-3 with Steve Huth, Jim Millard, Dale Thompson, Karl Dommershausen, Cathy Myers and Lisa Hurda voting yes. Kevin Murray, Greg Ardrey and Michelle Haworth voted no.
The amount of pay has not been finalized, but a proposal presented in June would allow members to accept $200 per month, or a total of $2,400 a year. The plan also calls for the board president to be paid $250 a month, or $3,000 a year. If all board members opt to be paid, it would cost the district $22,000 a year.