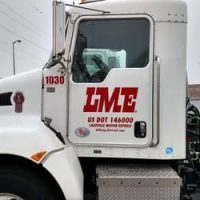 About 30 workers at a Minnesota-based trucking company with a location in Janesville lose their jobs after the business closes abruptly in the middle of the work day.
Truck driver Scott Reynolds says he was in the middle of doing his daily deliveries and pickups Thursday when he was told to bring his rig back and park it.
The closure doesn't just affect Janesville. LME has 30 locations around the country and a total of over 600 employees.
Reynolds says to make matters worse, Friday is payday and employees did not receive their direct deposits.
Because the business has less than 50 employees, the company is not required to notify the state about the closure.
According to the Minneapolis Star Tribune, LME was ordered by the National Labor Relations Board to pay more than $1.25 million in back-pay to 95 workers who lost their jobs abruptly when the company closed a location in Minnesota the day before Thanksgiving in 2016.
Representatives from LME did not respond to a request for comment.