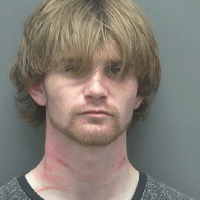 A 20-year-old Beloit man accused of crashing into an unoccupied house in the town of Beloit last month has his day in court.
Cameron Lee Flory plead guilty to hit and run property and operating while revoked in Rock County Court Thursday and was ordered to pay more than $463 in fines.
Another charge of operating without insurance was dismissed.
Flory is accused of crashing into a home that was up for sale in the early morning hours of July 7th. He abandoned his vehicle parked in the living room.
The crash resulted in a fire which burned the house down.