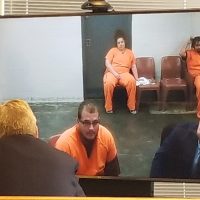 The driver in a hit and run causing injury from more than 5 years ago is finally caught and brought into court.
35-year-old Robert Conner III is charged with fleeing the scene of an accident back in 2014 that left two victims with head injuries.
One victim reported a 4-inch forehead laceration, while the other suffered a skull fracture and a traumatic brain injury.
Conner appeared on the City of Beloit's "Most Wanted' list for the crime.
Court Commissioner Larry Barton set Conner's cash bond at a total of $1,000. Assistant District Attorney Alex Goulart argued for a bond condition to include no driving, but Barton disagreed.
Conner's attorney expects him to remain in jail on a probation hold.
He also faces a lawsuit over the crash from American Family Insurance, which is seeking over $200,000 in damages.