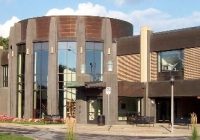 The Hedberg Public Library is set to open an express branch at the Janesville Mall next month.
Their board of directors approved a lease agreement with the mall Tuesday to occupy a space between the food court and the former Boston Store.
Library Director Bryan McCormick said the mall will not charge them rent over the period of the 12-month lease agreement, only requiring them to cover utilities.
Hedberg is hoping to have the space ready when the lease goes into effect September 15.
McCormick said the current plan is to staff the mall branch from 10:00 a.m. to 4:00 p.m. Mondays through Saturdays using their "Bookmobile" team and crossover from other existing employees.
He said the mall is letting them have shelving units left behind from the shuttered Sears store, which is saving them thousands of dollars.
Initially, the branch will be stocked with popular fiction and duplicates of books from the main library, but McCormick said they want to budget for adding new releases to the mall in the near future.
The library had been looking at options for secondary locations in recent years, including the former Family Dollar location near the Rock County Job Center on Janesville's south side, but McCormick said the costs had always been prohibitive until the mall offered free space.
Janesville Mall general manager Julie Cubbage said the mall is working on a similar agreement with the Rock County Children's Museum.