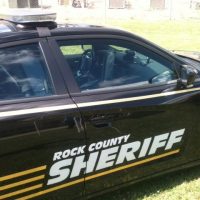 A 29-year-old Evansville woman is dead and a young boy is critically injured in a two-vehicle crash in the town of Magnolia.
The Rock County Sheriff's Office says first responders were dispatched to a two-vehicle crash involving a Dodge Charger and a loaded Mack dump truck just before 4:00 Monday afternoon at the intersection of West County Highway B and North Coon Island Road.
Investigation determined that an Evansville woman driving the charger was headed south on North Coon Island Road when she failed to stop for a stop sign and struck the dump truck that was going west on County Highway B.
The Evansville woman and a five-year-old boy were ejected from the vehicle. The woman was pronounced dead at the scene and the child was transported to the hospital with critical injuries.
The driver of the dump truck and a two-month old child that was a passenger in the charger were not injured.