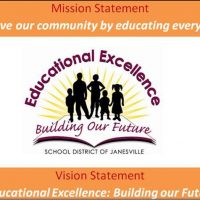 The School District of Janesville's annual nursing report shows the challenges of providing health services to 10,000 students.
The six full-time-equivalent nurses manage over 350 health plans for students during the school year, and one FTE nurse was mostly focused on a medically fragile student, leaving a nurse-to-student ratio of 1:2,010, according to the report.
Director of Pupil Services Kim Peerenboom says the role of a school nurse has changed to be more of an overseer to health policy and procedure in the 12 school buildings.
She says the state does not require the district to staff school nurses. They're only required to have a "district medical advisor," a role held by Dr. Mark Goelzer for over 30 years.
The district started tracking health office visits digitally last school year, which doubled the number of reported visits from 83,000 to 161,000. Those include every time a student comes to the health office for any reason, including daily medications or getting a bandage.
The top documented health conditions in the district are asthma, allergies and attention deficit disorder.