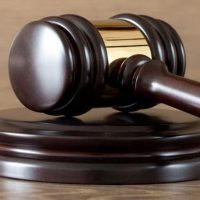 A 61-year-old Janesville man who was cited in July for possession of certain weapons prohibited for sale, first offense operating while intoxicated, and possession of drug paraphernalia may be off the hook with the town of Beloit but that doesn't mean he'll be getting away scot-free.
Town attorney Melissa Joos told Court Commissioner Larry Barton Tuesday morning that it was actually Glenn Hetzer's fourth operating while intoxicated arrest which means it's out of the town's jurisdiction.  Joos said she would be sending the case to the district attorney's office.
Barton agreed to dismiss the town citations.
Hetzer was stopped in the town of Beloit on July 5th and officers suspected he was under the influence of drugs or alcohol. They searched his vehicle and found unauthorized pills, items that can be used to make explosives, and pepper spray.
Hetzer was charged in August with misdemeanor dognapping or catnapping in a separate case in Rock County Court.