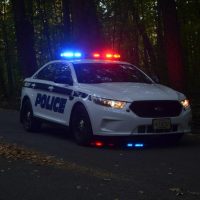 A Beloit man faces charges of party to the crime of attempted first degree intentional homicide connected to a shots fired incident from the end of September.
23-year-old Kejuan Hill is accused of firing at least five shots into the vehicle being driven by the victim in the area of Summit Avenue and Porter Avenue on September 26.
The victim told police he saw Hill following him in another vehicle and fire gunshots at him. Officers found five bullet strikes in the victims vehicle, including bullet holes on the front driver side fender and rear driver side door.
According to the criminal complaint, police located Hill on October 2 and arrested him after a foot chase. He was found to be in possession of a firearm matching the caliber of bullets used in the vehicle shooting.
Hill was also charged in Rock County Court with felony possession of a firearm by an adjudicated delinquent and two misdemeanors of carrying a concealed weapon and obstructing an officer.
During his initial court appearance Monday, a court official set a cash bond of $25,000.