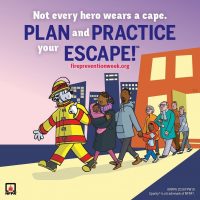 Each year fire prevention week draws attention to the great Chicago fire of 1871, but there was an even bigger tragedy a lot closer to home.
Janesville Fire Marshall Sue North says while 300 people died in the Chicago fire that started October 8th, 1871, about 1500 people died in Peshtigo, Wisconsin in an even deadlier fire the same day.
North says the Janesville Fire Department will be going out into the local schools this week giving talks and observing live fire drills.
The theme of this year's National Fire Prevention Week, which runs through October 13th is "Not every hero wears a cape, plan and practice your escape."
National Fire Prevention Week runs through October 13th.