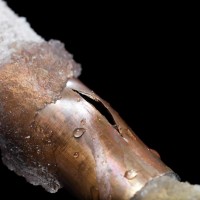 The early winter weather has local officials reminding residents not to let their pipes freeze.
Beloit Director of Water Resources Bill Frisbee says taking steps now can prevent expensive issues later in the season.
He recommends following the water pipes in your basement to check for any cold spots that may be exposed to the elements.
Common places where issues arrive are around windows or pipe openings that are too wide and not well insulated.
Rockford recently hit a record cold temperature for one day, and temperatures are set to hover below freezing next week.
Frisbee says keeping some tap water running can help prevent freezing but will affect your utility bill.