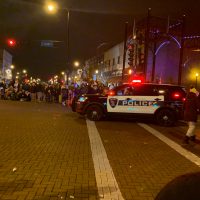 A second person is under arrest after a vehicle drove past police barricades and onto the Grand Lighted Parade route in Beloit Friday night.
According to a Facebook post, in addition to arresting the driver, 38-year-old Curtis L. Metz of Darlington, officers also arrested his passenger, 52-year-old Aaron L. Frayer of Beloit who had two felony bench warrants out of Green County.
Metz is facing possible charges of operating while intoxicated-fifth offense, knowingly fleeing an officer, driving after revocation, obstructing an officer, and reckless driving.
Metz is in custody in Winnebago County Illinois and will have to be extradited to Rock County.