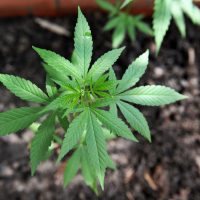 It took less than three days for marijuana purchased legally in Illinois to make its way across the Wisconsin border.
The Town of Beloit police department issued its first citation involving a driver transporting legal marijuana in their jurisdiction.
Police chief Ron Northup said officer Chris Regenauer pulled a driver over for speeding on Cranston Road near Riverside Drive on the morning of January 3. Marijuana became legalized for recreational use in Illinois on January 1.
Officer Regenauer reported the vehicle having an odor of marijuana, but the driver did not appear to be under the influence.
Police found an empty plastic tube with marijuana residue in the vehicle, which chief Northrup said his officers were trained to recognize that type of container as the way marijuana is being purchased legally in Illinois.
The 20-year-old driver from Beloit was cited for ordinance violations of possession of drug paraphernalia and speeding. His citation said he was driving 46 miles per hour in a 30 mile-per-hour zone.
Both the Rock County Sheriff's Office and the Beloit Police Department said they have made marijuana-related arrests since the drug became legal in Illinois, but neither law enforcement agency have been able to confirm where the marijuana in their arrests originated from.