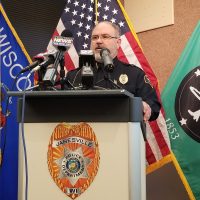 Janesville police are investigating a suspect in Monday morning's double homicide, but officials will not identify the suspect or any details about them.
Police issued a news release Wednesday night to notify the public that the killing was not a random act and the suspect was known to the two victims.
30-year-old Seairaha Winchester and 27-year-old Brittany McAdory were shot and killed just after 3:00 a.m. Monday morning, and a vehicle belong to one of the victims was found along the interstate in Hoffman Estates, Illinois a little over an hour later.
Police have not made any arrests as of Wednesday night and no arrest warrant has been issued. Officers are still gathering evidence to make sure they have the right suspect.
Friends of the victims have been sharing the name and picture of a potential suspect on social media, but police have not confirmed any individuals' involvement at this time.