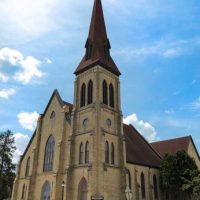 A local church is marking a major milestone.
First Congregational Church in Janesville will host a 175th anniversary celebration starting at 10:00 a.m. Sunday at the church at 54 South Jackson Street.
Special guests will attend, including State Representative Deb Kolste, the Reverends Tisha Brown, Lorraine Ceniceros and Lavinia Goodell, historian Nancy Kopp and, executive director of the Wisconsin Council of Churches Reverend Kerri Parker.
Bell and vocal choirs will perform, and lunch will be served. The church also will announce future projects, including its renovation plans for the grand hall.