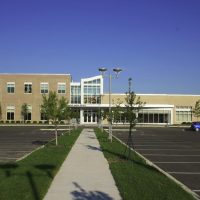 Blackhawk Technical College and the Beloit Public Library strengthen their partnership with a new long-term lease for expanded class offerings.
The Beloit City Council approved the agreement Monday night, which will allow BTC to build (and pay for) two new classrooms, a testing center and office space in the library.
Blackhawk Tech will fill previously unfinished space that won't encroach on any of the library's current collection.
The technical college has been renting classroom space at the library since the fall of 2018, and this agreement will give it a more permanent foothold.
When BTC doesn't have classes in session, the rooms will be available for the library's public programming.
Beloit City Manager Lori Curtis-Luther credited library director Nick Dimassis for his creativity with utilizing library space, and they believe this partnership will help sustain the facility for years to come.