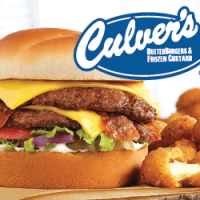 The cleaning company hired by a Janesville Culver's restaurant appears to confirm social media rumors about the local fast food chain having a positive COVID-19 case.
The Culver's on Milton Avenue in Janesville temporarily closed on May 22 with signs on the door stating the closure was for cleaning.
The sign read: "Our genuine care for our guests extends beyond the four walls of our restaurant and into the communities we serve."
SE Cleaners was hired to disinfect the building, and the local cleaning company posted on Facebook that Culver's had a person in the building with the coronavirus disease.
The Facebook post seems to back up a variety of claims that one or more employees at the restaurant had COVID-19.
SE Cleaners' post complimented the locally owned Culver's for its cleanliness and responsibility, and the company is confident the restaurant has no remaining risk to the public.
WCLO was unable to contact local Culver's representatives for official comment.