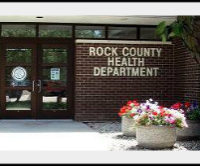 A federal lawsuit over local COVID-19 orders includes Rock County Health Officer Marie-Noel Sandoval as a defendant and four area residents as plaintiffs.
The suit, filed May 20 in the Eastern District Court in Green Bay, argues that local "safer-at-home" orders at the city and county level should be considered unlawful for many of the same reasons the Wisconsin Supreme Court ruled against the statewide order.
The lawsuit is seeking to declare these local orders unconstitutional and award the plaintiffs damages for the violations of their rights.
It specifically argues these health orders violate the defendants' civil rights, including the freedom to exercise religion, freedom to assemble, freedom of speech and the right to equal protection under the 14th amendment.
Sandoval is one of six county health officer named as defendants, along with various city health officers, police chiefs, Governor Tony Evers, Department of Health Services Secretary-Designee Andrea Palm and the entire Wisconsin Elections Commission.
Sandoval issued a public health order in Rock County on May 13, continuing the state order at a local level. On May 19, the day before the lawsuit was filed, Sandoval announced she would be lifting the local order on the morning of May 21.
The lawsuit could prevent her and other health officers from reissuing similar orders in the future, which Sandoval has not ruled out.
Jestin Korleski and Lanae Gilbertson of Beloit, Jaime Westcomb of Janesville, Jenny Turkelson of Brodhead are among the 17 plaintiffs who joined in the lawsuit.
Korleski is a local musician who said the state and local orders shut down many of the businesses at which he performed and limited his ability to provide music lessons to students.
He told WCLO he believes it should be up to individuals to decide for themselves if they want to patronize businesses and go out in public during the pandemic, rather than a government mandate.
Turkelson took issue with which businesses were designated as essential and not being able to attend church services because of the order.
She wanted to petition to recall Governor Evers but said the statewide lockdown prevented her from collecting the required in-person signatures.
Both Korleski and Turkelson want to see the lawsuit set a precedent to discourage future governors from taking the same actions as Evers.
WCLO attempted to contact all four area residents involved with the suit but could not reach Gilbertson or Westcomb.
You can download and read the entire lawsuit complaint here.