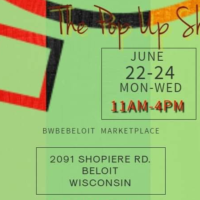 Black business owners in Beloit are coming together for a monthly series of pop-up shops.
Vickie Lynn organizes the yearly Black Women in Business Expo in February, but her friends and vendors wanted more opportunities to hold community events.
She worked with Cornelius Turner, the owner of Ribs, Reubens and More, to allow vendors to set up at the restaurant on Shopiere Road this week from Monday through Wednesday from 11:00 a.m. to 4:00 p.m.
The Black-owned businesses will be selling baked goods, gourmet popcorn, artwork, clothing and Lynn's own natural skin care products, among other offerings.
"Representation matters. We want the community to know we're here," Lynn said. "We want the young Black people who are coming up to know what's possible, to see themselves in us."
She wants the pop-up shops to be a community event, where customers can immerse themselves in Black culture, experience something new and support local small businesses.
Lynn is already scheduling vendors for the next pop-up shop at Ribs, Reubens and More for the same hours, July 13-15.