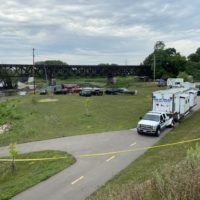 Inclement weather interrupts the search for a missing 9-year-old girl in the Rock River.
Police and fire officials were weary of Friday night's thunderstorms that moved in from the northwest.
The emergency response team pulled all boats off of the water by 4:30 p.m. night but stayed in the area until storms came in at around 5:30.
The water rescue team is looking for the girl who was caught in the river's current Thursday night just after 7:00 p.m.
The Rock County Sheriff's Office shut the Indianford Dam in an effort to slow the river's current so divers could search underwater.
The search teams went back out on the water to continue the recovery effort at 7:00 a.m. Saturday.