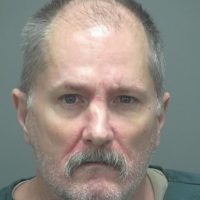 A 57-year-old Janesville man is under arrest following an armed standoff with police that ended when he set his on house on fire.
Janesville Police say officers were dispatched to a residence on the 100 block of Cherry Street just after 3:00 Monday morning on the report of an out of control subject.
When officers arrived, Ray E. Gross exited the house armed with a knife, did not obey commands, and retreated back into the home.
Officers set up a perimeter and were attempting to make contact with Gross when thy observed a fire inside the home.
Gross exited the front door of the home unarmed and was taken into custody.
The Janesville Fire Department arrived on scene and extinguished the fire, which caused about $15,000 in damage.