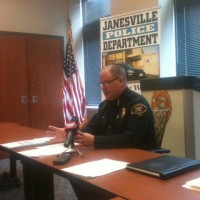 Janesville Police Chief David Moore released the findings of his administrative review of a March 26 non-fatal shooting involving Officer Lyle Hollingshead.
Rock County District Attorney David O'Leary previously determined Hollingshead acted lawfully when he shot and hit Christian A. Cargill twice following a single vehicle accident on Highway 14 in Janesville.
Cargill was driving a pickup truck pulling a camper on Interstate 39/90, when he drove off the interstate, down an embankment and onto Humes Road before striking a power pole.
Investigators said officers tried multiple methods to get Cargill to drop the knife, including tasers and .40 millimeter foam rounds. When those methods failed, officer Hollingshead shot and hit Cargill in the right shoulder and upper left leg.
In his administrative review, Chief Moore discussed and shared body camera footage and a more comprehensive look at the incident.