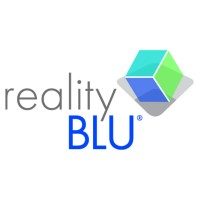 A Beloit augmented reality company is gathering significant investments as it expands into a multi-billion dollar instustry.
RealityBLU chief experience officer M.J. Anderson said the business has raised around $1,000,000 of funding so far as he and co-founder Stefan Agustsson look to hire more staff and expand what they can offer.
They created an augmented reality platform for marketers to make three-dimensional content on two-dimensional surfaces, viewed through a smartphone camera lens.
Their product makes this type of technology more accessible for companies to provide a virtual experience for customers and audiences.
For example, a shopper in a store could hold their phone over a product, and the software would recognize the label and automatically pull up more information on the item. Anderson said publishing companies also use their platform to make their pages come to life with virtual content.
"It's our contention that augmented reality will actually have a larger effect on us as human beings than even the world wide web did," Anderson said. "AR will give us the ability to completely blow apart the metaphor of linear learning, linear time and linear presentation of material."
He cited how companies like Apple are already planning to move past handheld smart phones and transition to wearable technology like smart glasses, that would let wearers see the whole world with augmented reality.
RealityBLU is part of IronTek business incubator in downtown Beloit, which Anderson credits for helping the company grow. They were recently selected as part of gener8tor's business accelerator program, which comes with 12 weeks of support services and a $100,000 investment.
Anderson and Agustsson see Beloit as a growing "silicon pasture" with three different technology companies already based out of the city's downtown.
---
You can hear WCLO's full interview with M.J. Anderson below