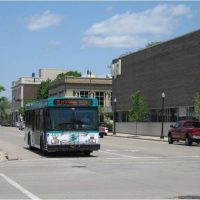 Janesville buses could receive safety upgrades as the city receives extra funding from Federal Transit Administration.
Finance director Max Gagin said the Janesville Transit System is bringing in roughly $3.3 million through the CARES Act, which will help offset significant decreases in ridership during the COVID-19 pandemic.
Gagin said the number of riders in recent months are down 70-75 percent compared to the same time last year, and the city expects an overall downward trend to continue beyond this year.
He and transit director Rebecca Smith will use the FTA money absorb the lost revenue and maintain a similar budget while improving the transportation system for all involved parties.
Smith wants to use grant funding to add self-contained driver areas in each bus and transitioning to cashless fare system. City officials have also discussed upgrades to the downtown transfer center for a safer, more user-friendly process.