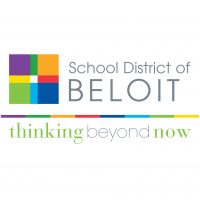 The school district of Beloit will begin its fall semester with all virtual learning.
Interim superintendent Daniel Keyser presented his reopening criteria to the school board Tuesday night, which will require Rock County's COVID-19 situation to improve before students return to school buildings.
Keyser wants to see Rock County's 14-day average percentage of positive COVID-19 tests fall below 5 percent with a decreasing trend line in order to conduct in-person learning.
As of July 21, the most recent data available from the county health department, Rock County's 14 average positive rate was 6.13 percent with an upward trend over the previous two weeks
He also wants to ensure the district can safely and adequately transport students to school buildings and have a manageable capacity in their schools.
Parents can choose whether to enroll completely virtual through Beloit Virtual School or opt for traditional learning, which will be in-person when possible and distance learning when the reopening criteria is not met.
Keyser sees his plan as flexible and adaptable to a pandemic that has already changed quickly since he started July 1.