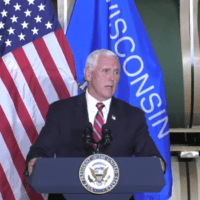 Vice President Mike Pence will be back in Janesville Monday for a Trump campaign rally.
He will speak at the Holiday Inn Conference Center at 11:00 a.m. with doors opening at 9:00 a.m.
According to his campaign, he will be speaking on the Trump administration's achievements while discussing what he calls "the radical consequences of Joe Biden's socialist agenda."
Pence passed through Janesville last month when Air Force Two flew into the Southern Wisconsin Regional Airport for the Vice President's speech in Darien.
He last spoke in Janesville at the Blain's Farm and Fleet distribution center back in 2017 with then-Speaker of the House Paul Ryan.