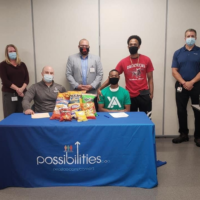 Frito-Lay hires three Rock County students for a youth apprenticeship program at its Beloit plant.
School District of Beloit Director of Career and Technical Education Mitchell Briesemeister said it's the first time the food manufacturer has participated in the program at any of its facilities across the nation.
The hires are part of the Department of Workforce Development's Youth Apprenticeship Program, which requires students and employers to meet certain job standards.
Merrill Reed III, a junior at Beloit Memorial High School, was one of three hires chosen out of dozens of applicants across the county. Frito-Lay also hired a student from Beloit Turner High School and Milton High School.
Briesemeister said the students will get paid work experience in various aspects of the operation over the course of the school year, and Reed will take applicable manufacturing classes in school at the same time.