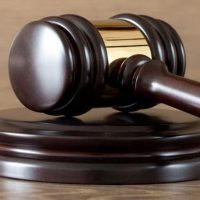 Rock County Court still can't hold jury trials, as the number of local COVID-19 cases continues to rise.
The board of judges decided to temporarily suspend in-person court hearings once again, which removed a scheduled jury trial off the calendar for Monday.
44-year-old Donald Gilmore was going to have the first Rock County jury trial since the start of the pandemic. He's charged with first-degree recklessly endangering safety by use of a dangerous weapon and being a felon in possession of a firearm after Beloit police said he fired a handgun during an argument in June of 2019.
Judge John Wood said Gilmore's case is his "number one case in this county" that needs to go to trial as soon as it can.
The Rock County Public Health Department reviewed the courthouse's jury trial plan and recommended against holding in-person jury trials while the local coronavirus rate remains high.
The county's judges are not yet moving back into phase one of their court reopening plan, but they will monitor the COVID-19 situation and reassess in a few weeks.
Judges will continue to hold court trials and proceedings virtually over Zoom, which are broadcast live on YouTube to follow open court laws.