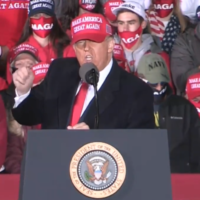 Thousands of people from across the midwest turn out for President Trump's campaign speech in Janesville.
The overflow crowd heard the President tout economic growth and law and order in his plans for a second term in office.
Trump took several jabs at Joe Biden, the Democratic Party and the media, while downplaying recent COVID-19 spikes as Wisconsin's numbers skyrocket.
Health officials asked him not to hold the event, which saw a crowd packed shoulder-to-shoulder with sporadic mask wearing.
Trump said the Rock County area tends to lean left, but he believes many local Democrats also support him over Biden.
He emphasized the importance of Republicans winning the state of Wisconsin, and he was complimentary of the crowd's passion and energy.